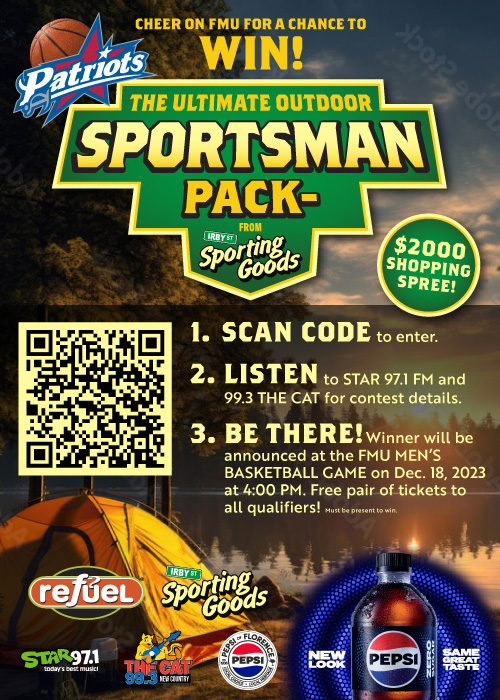 We're teaming up with Pepsi, Francis Marion University, Refuel Convenience Stores and Irby Street Sporting Goods to give 1 lucky winner a $2000 Ultimate Outdoor Sportsman Package!
To enter, fill out the entry form below. If you are a finalist, you'll receive a pair of tickets to the Francis Marion University Basketball game on Dec. 18th - make sure you're there, because the Grand Prize winner will be announced at halftime during the game, and you must be present to win!
Look for us at the following dates/locations for even more chances to enter!
Tues. Nov. 7, 4-6pm - Refuel 6515 E. Palmetto St, Florence
Wed. Nov. 8, 4-6pm - Refuel 2105 TV Road, Florence
Wed. Nov. 15, 4-6pm - Refuel 2401 W. Palmetto, Florence
Tues. Nov. 21, 4-6pm - Refuel 1400 McIver Rd, Florence
Thurs. Nov. 30, 4-6pm - Refuel 1419 Irby St, Florence
Thurs. Dec. 7, 4-6pm - Refuel 104 W. Bobo Newsome Hwy, Hartsville